Hi Everyone!
With the natural hair movement, a lot of mothers (and fathers, *wink*) have been opting to avoid using chemicals in their daughter's hair. While this is an amazing way to keep your little one's hair healthy, it also raises a big question for those of you that are inexperienced with hair care: "What do I do now?"
For a lot of parents of African American children, this is a bit of a conundrum. There are
so many
products on the shelves that have a lot of claims (moisturizing, promoting manageability, shine, detangling, strengthening, etc), and for someone who is either new to taking care of a little one's hair, or if you are of a different ethnicity from your little one, what should be a simple trip to your local beauty supply can bring about the need for a couple of Excedrin once you're done (or give up).
Below are a couple of photos of Nyah, one of my clients with her hair in its complete natural state, then with a couple of different style options for young natural girls.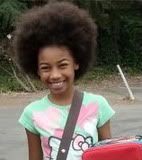 <------ Nyah natural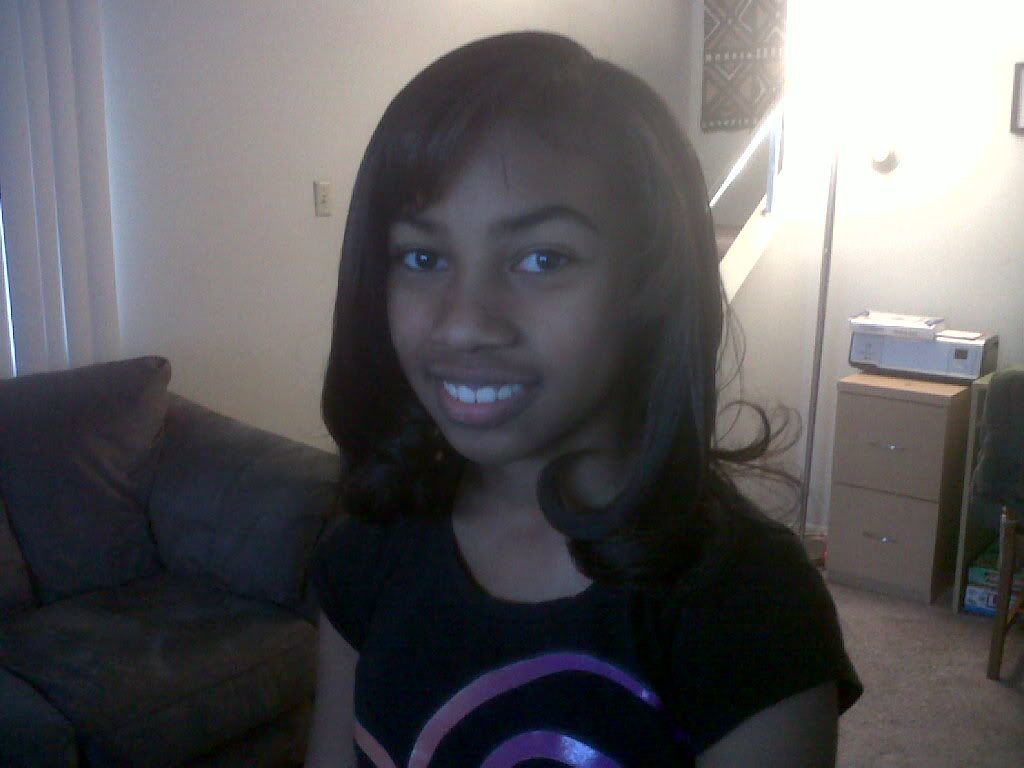 <------ Nyah after Flat ironing with Coconut oil (and some growth)
<----- Some pretty cornrows and a ponytail
<---- Nyah with a GORGEOUS braidout
<-----a better view of the braidout
Tips:
Nyah's hair has grown considerably (as has she!) since I started taking care of it 3 years ago. (note, I started "tex-laxing" her hair once every 12-14 weeks after year 2)
The best styles for little girls, as well as adolescent girls, are braids and two-strand twists. They are heat-free styles, that are gentle on the hair (just make sure you don't braid too tightly, as it can cause traction alopecia -- hair loss caused by too much tension), and they give you the luxury to leave your little one's hair alone for a while, and let it grow.
Try to stay away from using excessive heat on her hair, as curlier hair types tend to retain heat, which can cause split ends and breakage. However, when you DO use heat on her hair, always, always, ALWAYS use a heat protectant. I will suggest specific brands on the product list below. If she wants her hair down and out of braids, try a the "braid out" technique. Braid her hair into medium-sized cornrows before bed, and make sure to tie her hair down with a silk or satin scarf, and take the braids down in the morning. The results will be beautiful, more relaxed waves and coils, and you didn't need any heat.
Also, flexi-rods are a great way to add curls without using heat. Also, since flexi-rods are soft and bendable, they will be comfortable for her to sleep on.
Make sure to trim, or have her hair trimmed every 4-6 weeks, 8 weeks if you aren't using any heat at all. This may seem like a lot, but trust me, if her ends are not splitting, her hair will indeed grow, and you will be surprised at how fast it grows!
Products:
Leave-in conditioners:
Infusium 23 Leave-in conditioner (an oldie, but still a GREAT conditioner!)
Mixed Chicks Leave-in
Kinky Curly Knot Today
Cantu Shea Butter Leave-in
MoraccanOil Argan Oil treatment
Moisturizers:
Carol's Daughter Hair Milk
Organic Cold Pressed Coconut Oil (any brand, just make sure it is organic and cold pressed)
Mizani Supreme Oil
Jamaican Black Castor Oil
Argan Oil (again! LOL)
Heat Protectants:
Tresemme Thermal Creations Heat Tamer spray
Garnier Fructis Sleek & Shine Flat Iron Perfector Straightening Mist
Mizani Thermasmooth Smooth Guard Smoothing Serum
Nexxus Heat Protexx
Any questions on additional products, just leave them below, and I will respond promptly!
Happy Styling!